Due to the Coronavirus, we have to cancel the 2020 Stick It to Brain Tumors Tournament.   
Since brain cancer isn't going away and we still need research money to fight , if you would still like to donate to Johns Hopkins or the Pediatric Brain Tumor Foundation,  check out out donation page.
We will be back in 2021.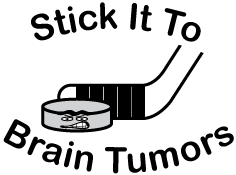 We are cordially inviting you to participate in our 2020 Stick It to Brain Tumors Benefit Tournament!
Our goal in 2020 is the same as past years:
Have Fun.
Raise Awareness Of Brain Tumors (Cancer)
Raise More Money for Brain Tumor Research.
The effects of brain tumors can be devastating because they are located at the control center for thought, emotion, and movement. In many cases, brain tumor survivors live with physical and/or psychological disabilities. We don't even know the causes of brain tumors! Unfortunately, brain tumor cancer research is one of the most under-funded areas of cancer research in this country. Of the ten priority areas for research, brain tumors come in at the bottom for funding.
We have raised over $230,000 in our thirteen tournaments! We greatly appreciate the support of all the teams and individuals that participated to make it such a successful event!!
All proceeds are donated to the Johns Hopkins Research Hospital.
We will have the Wall of Courage again this year.
If you would like to add a name in Memory Of or in Honor Of, please include their name(s) and which Wall in the email by March 1. If you would like to include the type of cancer, we will include that on the Wall.
We look forward to seeing you in March 2020.